Zur Fotogalerie
Mehr Info / Read more…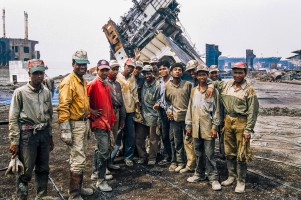 Die Region am Golf von Bengalen: Eine der ärmsten Gegenden Asiens und einer der am dichtesten besiedelten Flecken der Erde. Nicht viele ausländische Reisende suchen diesen Teil der Welt auf und gerade deshalb sind die Begegnungen mit den Menschen dort sehr intensiv und gehen unter die Haut. Besonders in Bangladesh gehe ich kaum einen Schritt, ohne von einer Menschentraube umringt zu sein. Momente, in denen sich niemand innerhalb eines 50 Zentimeter Radius um das Kameraobjektiv aufhält, sind selten. Das macht Fotografieren schwierig. Immer ist da die ungestüme Nähe der Menge. Lachende und neugierige Gesichter – egal wie hart das Leben sonst auch ist. Die Härte des Daseins wird deutlich, wenn man das Schuhwerk der Arbeiter in den Schiffs-Abwrackwerften betrachtet. Oder den kontaminierten Boden auf dem sie barfuß ihren Job erledigen. Und das sind die Glücklichen, die einen Job haben! Die Hoffnung auf bessere Arbeitsbedingungen ist gering: Vielfach sind die Besitzer der großen Firmen, Schiffs-Abwrackwerften oder Nähereien in Bangladesh gleichzeitig auch diejenigen, die hier die Gesetze machen – die Parlamentsmitglieder.
Laut Wikipedia sind die Arbeiter in den Abwrackwerften Chittagongs täglich Asbest, Schwermetallen, Ölrückständen, TBT, PCB und anderen Mischungen toxischer Substanzen ungeschützt ausgesetzt. Mehr als 20 von Ihnen sterben jedes Jahr.
The area around the Bay of Bengal for sure is one of the poorest regions in Asia – and one of the most dense populated in the world. Because there are not so many foreign travellers, encounters with locals are always very intense and rewarding. Especially in Bangladesh people are always crowding around you, wish to have or be in a picture. For a photographer that means, moments when there is nobody within the range of 50 cm to your lens, are very rare. Taking pictures is difficult because you are always circled in by a laughing, friendly and curios crowd, no matter how hard life is. The harshness of life becomes apparent, when you watch the footwear of the guys in the ship-breaking yard or the contaminated soil some workers walk barefooted! And these are the lucky ones who have a job. There is not much hope for better working conditions. Often, the big companies, the ship-breaking yards, the sewing rooms in Bangladesh are owned by the local lawmakers.
According to Wikipedia every year about 20 people are dying in the ship-breaking yards of Chittagong. The unprotected workers have to deal daily with asbestos, heavy metal legacies, oil deposits, PCB, TBT and other mixtures of toxic substances.